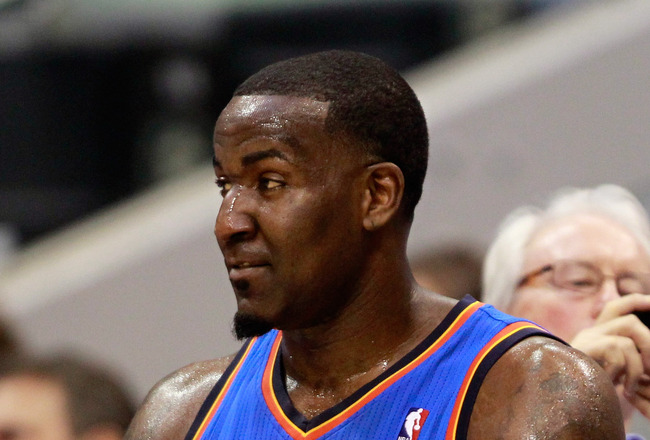 His own client?
Tom Pennington/Getty Images
DATELINE: HUMOR!
Kendrick Perkins, erstwhile Celtics center and locked out Oklahoma City Thunder star, originally had a pre-trial hearing set for Sept. 30 in Beaumont, Texas.
The hearing has been rescheduled to a date not yet determined. 
Occasional star on the basketball court, Perkins now intends to outdo Matlock, Perry Mason, and Boston Legal with William Shatner as crack attorney Denny Crane. He has dismissed his own lawyer.
It is unknown whether Perkins for the Defense has watched television lawyers in court and feels prepared to defend his reputation from being besmirched by misdemeanor charges.
Word is that Perkins has now chosen to represent himself in the case, which could go to a jury trial.
His original attorney Langston Adams had set the date for the past week, but he seems no longer associated with the case.
Beaumont Municipal Court will find Perkins playing scenes out of Inherit the Wind as he becomes his own attorney in order to fight the charges--much like he fights referees in the NBA.
Though some contend that a man who represents himself in a court of law has a fool for a client, Perkins may be more than merely the last angry man of the NBA.
It is still unclear whether former teammate and occasional Perkins babysitter Rajon Rondo will appear in court in the role of Della Street, Mason's assistant, or will be called as a witness for the prosecution.
Perkins was originally charged by police with disorderly conduct  and public intoxication, which led to a contretemps at the Ticket Sports Bar in his hometown
The NBA-less star had suggested in August that he was the victim of police brutality.
Perkins was allegedly under doctor's orders to take it easy after some kind of food poisoning prevented him from holding a banquet for children the night before the incident.
Unhappy about more than a few matters, Perkins apparently wanted his money back from the sports bar and made his indignation clear to the bar proprietor in typically unruly, entitled NBA star fashion. Perkins denies this.
Police insist that he grew quickly out of control, and associates in his entourage were unable to douse his trigger temper. 
Perkins has long been known for his famous scowl and take-no-prisoners attitude on the basketball court. He has now extended this lack of courtliness to a party at 3am. Whether he courts the favor of the legal system may be moot. He has become a literal court jester to his many fans.
William Russo often writes sports humor, including SEX, DRUGS, SPORTS & WHIMSY. His scathing humor has been turned on Kendrick Perkins often, especially in the collection RAJON RONDO: SUPERSTAR! All books by Russo are available on Amazon.com as e-books or in print. His newest book, RED SOX 2011: A WHIMSICAL AUTOPSY  will be coming out later this week!