DATELINE: HUMOR!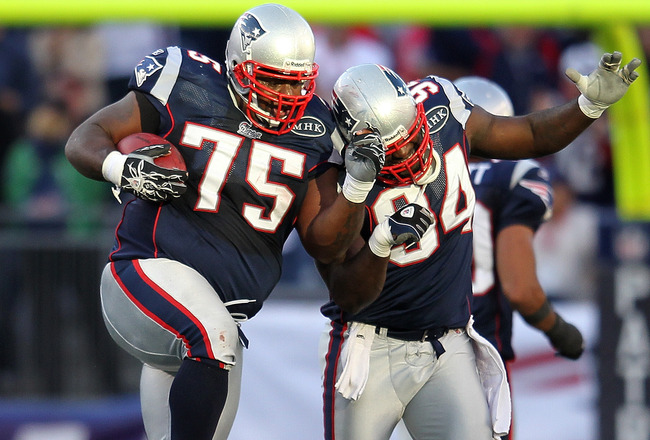 Look out, Ellsbury and Rondo!
Jim Rogash/Getty Images
  Earlier this year we proposed a footrace between Boston speedsters from the major teams.
We suggested that Wes Welker or Danny Woodhead might be a good matchup for Jacoby Ellsbury of the Boston Red Sox and Rajon Rondo of the Boston Celtics. Tag teams are always a possibility.
After Sunday's game, we will put a new speeding runner from the Patriots into the mix. Faster than an AMTRAK Acela train and more powerful than a speeding bullet, this Patriot runner may be more dangerous than stepping in front of a moose running down the highway.
We are referring to Vince Wilfork, whose interception for the New England Patriots was amazing enough, but whose élan and vigor as a runner surprised voters for the Hall of Fame in Canton.
Wilfork noted with unusual immodesty that he could run the 40-yard dash with all the aplomb of 4.9 seconds (or with tongue firmly in cheek), even a dash of 4.8 seconds.
Less kind fans noted that old Vince shook like a bowl of jelly as he rumbled and tumbled down the field, and New England registered a small earthquake of around 4.6 on the Richter Scale as he shook the stadium.
We would again propose that fans would pay a charity to see Ellsbury or Rondo race against Wilfork.
Alas, the unfairness of life would mean that in such a race either Ellsbury or Rondo would have to double his own weight (and still get off easy on the avoirdupois).
Rondo and Ellsbury ought to stand in awe. It is as if they ran that dash with a handicap. We suspect the handicap would be doubling their weight.
No, don't strap a refrigerator to Jacoby's back.
The only solution would be for Ellsbury to carry Rondo on his back as he raced Vince Wilfork.
Perhaps we could have several variations on a theme. Perhaps Rondo could put Ellsbury on his back when he raced against the mighty Wilfork.
The mind boggles as the even matchup with such handicaps. Of course, Wilfork is a man of honor. He would probably offer to run with Danny Woodhead on his back.
Ah, to be a fan in Boston means fantasy games come from every sport.
WILLIAM RUSSO has many other essays collected in his book SEX, DRUGS, SPORTS & WHIMSY, VOLUME 2. You may also enjoy some of his other sports books like RAJON RONDO: SUPERSTAR. All books are available on Amazon.com in e-book and in print.