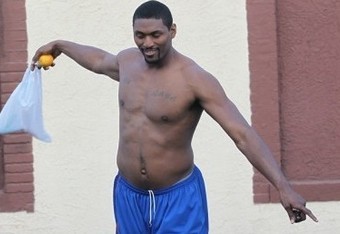 World Peace takes a chance.
Metta World Peace is, of course, formerly
Ron Artest
, as all mixed martial arts fans know from his run-ins off the basketball court. Los Angeles Laker Artest is the latest athlete to do his version of St. Vitus Dance on
Dancing with the Stars.
World Peace is now a dancing contestant on the cult favorite show of all closet dancers. Usually, the TV series finds an athlete who is willing to display all his talent in two minutes of a rumba.
World Peace follows Chad Ochocinco, Hines Ward and Rick Fox, among others, to trip the light fantastic.
Alas, World Peace looks like a man avoiding banana peels on the slippery dance floor.
Those who want to catch him in the middle of a fast cha-cha had better tune in to Dancing with the Stars as soon as possible. Catastrophes like this don't last long. 
Stars, like comets, explode in the sky and make for quite a mess in the universe. This star has hit the dance floor with all the aplomb of the asteroid that killed dinosaurs.
If you are interested in dancing technique, it appears World Peace honed his skills by doing the cha-cha to drip dry after a shower. With style like this, he doesn't need a towel.
You've probably seen better moves after your dog climbs out of the swimming pool.
World Peace isn't just singing and dancing in the rain; he's doing a two-step in a typhoon. 
He makes Chaz Bono look like Fred Astaire.
World Peace has not taken such a beating since John Lennon wrote a song about it.
In all probability World Peace will be voted down soon. Democracy allows you to vote on whether FEMA ought to visit World Peace's dressing room tonight. 
We could be wrong, but Metta World Peace is something to behold.
William Russo writes humor about sports. If you like his work, you may enjoy his e-book RAJON RONDO: SUPERSTAR as well as SEX, DRUGS, SPORTS & WHIMSY. Both are also available in traditional paperback book format.