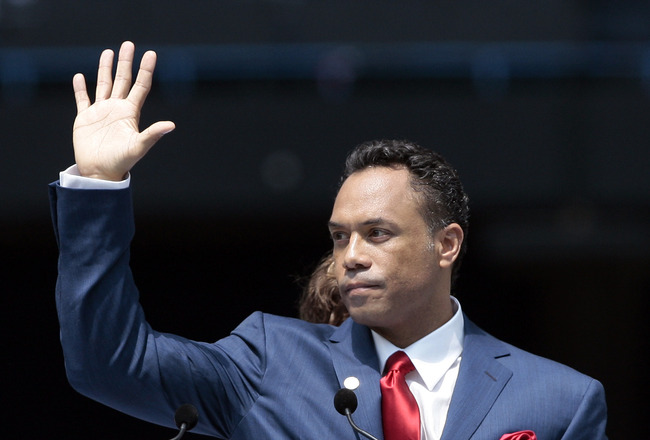 Roberto Alomar
: a spitting image of baseball?
Abelimages/Getty Images
DATELINE: HUMOR 

We seldom like to cross the line of politics into sports, but lately the metaphor strikes out less frequently.
Umpires, never a sympathetic lot, have been under increasing attack, and it has become downright physical.
With the elevation of Roberto Alomar to the Hall of Fame, noteworthy for spitting on an umpire in a dispute, we have the floodgates of saliva spewing forth. 
St. Louis Cardinal Yadier Molina
apparently took the role model of Alomar to heart and spat upon an umpire and took to bumping him.
Arguments and disputes have reached epidemic proportions, and the umpires find themselves outnumbered when the riot breaks out on the field.
Coaches and managers seem to have lost control of the gangster mentality of today's young players. Anarchy reigns, and personal honor has become a matter greater than helping one's team win the game.
Nowadays players are free agents, ready to take their wares to any organization that will pay them. Less loyalty is affixed to a team, and more loyalty is dedicated to the almighty paycheck.
The major leagues of baseball have a former player and manager named Joe Torre
as the arbiter and executive in charge of umpiring and playing behaviors on the field.
An old-school figure, he seems out of his league when it comes to today's flaunting of authority. He has levied fines and tried to support the umpires, but the problem has only become more vile and violent, as recently seen in another San Francisco Giants brawl.
Once umpires seem to become the lightning rod of trouble with a team, subject of complaints and appeals to bad decisions, the umpire is summarily removed from any schedule with complaining team. A perpetrator and instigator umpire has not umpired a Red Sox game since he threw out the pitcher and catcher in the ninth inning of a close game.
The credit rating of baseball is due for a downgrade to AAA because the major league players look minor, if not bush league lately.
Baseball players are evolving into basketball players before our eyes.  Worse for Americans, the national pastime has begun to supersede the Congress for becoming a haven for fools on the hill.
 William Russo writes sports humor. His published books include GREAT SPORTS STORIES: THE LEGENDARY MOVIES and SEX, DRUGS, SPORTS & WHIMSY, now in its second volume.