On the verge of possibly missing NBA Games (maybe a whole season) for the first time since 1998-1999; I though this would be the perfect time to give out awards and all-NBA selections spanning from lockout to lockout. This was an era that was dominated by the west, mainly the Lakers and Spurs. They won 9 championships in the 14 year span and had three of the top 5 players of the era (Tim Duncan, Shaquille O'Neal, and Kobe Bryant). This era has seen an influx of international talent and popularity overseas unmatched in previous decades. There have been many international players that have been the focal point of championship teams like Manu Ginobili, Tony Parker, Dirk Nowitzki, and Pau Gasol. I will also have to shout out my boy from Houston, Yao Ming. He was as great player when he was healthy and always underrated by the younger generation because he was not flashy and because of his height. But, it was not his fault he was 7'6 and he had more finesse to his game than some 6'6 guys. It is a shame than he and T-Mac were never able to make their great push together but, he can retire is the most influential international player of all time. In terms of number he is not a hall of famer but, in terms of impact to the game he should be a first ballot guy. I will now go into my selections.
All-NBA Honorable Mention
When I initially started deciding on my all-NBA teams I reduced the field of players to about 25-30. After that it was pretty difficult selecting my picks because some players were only around for half of the time frame and many fluctuated in performance over the years. The two guys that were hardest to keep off the list for me were Dwight Howard and Dwyane Wade.
Dwight Howard barely off the list
Dwight Howard has been in Orland for 7 seasons and has continued to develop over the years and his offensive game finally looks like it is truly evolving into something special. He is not just dunking it every time anymore; he has developed an occasional semi-hook shot and a decent bank shot. Dwight does not have the power that Shaq had but, he is a better athlete. He took his team to the Finals in 08-09 by upsetting Lebron's Cavs. The team was basically carried by Howard and their dangerous perimeter shooting. Howard has 5 all-NBA selections (4 on the first team, one on the third); he has 4 all-NBA defensive team selections, and three NBA defensive player of the year awards. What left Howard off was his lack of dominance and his inability to truly carry a team. Although he is a great defender his team is not elite defensively. If these teams were made two years from now he would probably unanimously be in it.
The 16th Man
Dwyane Wade as Finals MVP
Dwyane Wade was probably even harder to leave off than Howard. He has already gone to two NBA Finals and has a Finals MVP in the one he won. He has been an electric scorer for the Heat and although he does not have an MVP he is a top 4 player in the game today. But, the fact that he also only has 7 seasons to work with makes it difficult. The Heat went on a downward spiral when Shaq left and were finally able to come back to the promise land post-The Decision. He is one of the best rebounding and shot blocking guards of all time. His athleticism is matched by few and he has shown he is a great leader. He is a 6 time all-NBA selection and 3 time all-NBA defense selection. He has been the face of the Heat since he arrived in South Beach and will continue to be for some time (people in Miami like Wade more than Lebron). If I had to pick my 16th man for the all NBA teams it would be Wade but, the lack of years and some of his injuries make it more difficult. For that reason he is my last player off the list.
The other 4 guys I give honorable mention to are Carmelo Anthony, Chauncey Billups, Amare Stoudemire, and Yao Ming. Only one of these players has a ring but, Billups could not take the spot of one of my other 3 PG's. He was a phenomenal point guard and was great during the era but, his team was extremely balanced. He never had to necessarily carry them; there was always others who stepped up. That doesn't take away from his ability but, I believe the others did more for their teams.  Yao had too many injuries over his career or he would have had a shot with Howard to make the last center spot. Carmelo has had difficulties playing defense over his career and has not separated himself like Wade and Lebron. Amare's injuries also kept him off this list. He was great in Phoenix and looks like he is going to be a big part of the Knicks return to greatness. Now I will go into my 3rd team.
Lockout to Lockout All-NBA 3rd team
Center-Ben Wallace (Defensive Player of era)
Ben Wallace was the enforcer in Detroit
I know what your thinking, how did this guy make it ahead of Yao and Dwight? It is pretty simple, defense. He was the core defender on a Pistons team that dominated the East for years, although they had their slip-ups in the Eastern Conference Finals. He was the reason that Detroit team was able to beat the Lakers because his presence down low did slow down Shaq. Shaq had his big games but, was held under 20 twice which was unheard for Shaq in the Finals. In the clinching game Ben Wallace only scored two fewer than Shaq (18-20) and outrebounded him by 14 (22-8). Ben Wallace was a 4 time defensive player of the year and 6 time all-NBA defense. The most remarkable part about Ben Wallace's time in Detroit was that he was all-NBA 5 times (never making first team) and he was incompetent offensively. He was so effective on defense that he was able to overshadow his terrible offense and free throw shooting. Offensively he made Dennis Rodman look like Michael Jordan but, defensively he made his 6'9 stature look like 7'5. He flourished in an era that saw a dwindling Shaq and a promising young Howard. He took over the era by dominating the interior. Although his Pistons were only able to win one championship, it was against the 3-time champion LA Lakers who everyone expected to win. His afro and headbands he put on his biceps gave him the image of enforcer that will forever be present in the minds of anyone who watched him play defense.
Power Forward-Chris Webber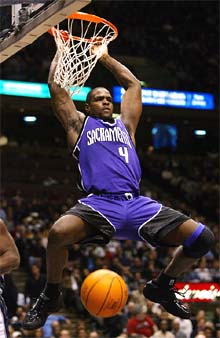 Webber should have won a ring in Sacramento
Chris Webber is one of the best power forwards of all time and certainly one of the best big men if this 14 year span. He was the best player on the most exciting team of this era, the Sacramento Kings. He and Vlade were the best big men passing combo to ever hit the NBA. The Kings and Lakers battled yearly and if it was not for the Kings being robbed in Game 6 we would be talking about C-Webb with a ring.  He was always an extremely fun player to watch and was pretty consistent throughout his time in the era. He was a 5-time all-NBA selection (once 1st team) and led the league in rebound in 1998-1999. In the five year span from 1998-1999 to 2002-2003 he was as good at his position as anyone. He averaged over 4 assists a game during that time also. He carried the scoring and rebounding load for the Kings (except for Peja's one ridiculous scoring season) and was very consistent for the 8 healthy years he had in the era. Amare was close competition but, there was never really a point where I would say Amare was the absolute best player on his team; C-Webb was. His versatility as a basketball player is what made him so special. He is now on TNT because his knees were basically shot toward the end of his career. The impressive aspect of Webber is the fact that he became a shooter at the end of his career to prolong it and was still effective doing that. (Btw, isn't crazy that Jalen Rose and Webber are on TV yet, Juwan Howard is still playing. It's crazy)
Small Forward – Vince Carter
Vince Carter is the best dunker of all time
The best dunker of all time makes the list, although his production has declined astronomically over the past couple of years. He was still one of the best players in the league for a number of years and although his motivation was questioned he still put up numbers. He started of the lockout to lockout era with a rookie of the year. (Funny thing was he was traded for his teammate, Antwan Jamison, who was expected to be better than Vince. Jamison still ended up having a great career but, never peaked quite like Carter) Vince Carter revived his career when he went to NJ but, the Nets never seemed to be able to get back to the Finals. Carter was always a good rebounder and a decent passer but, his injuries affected him negatively throughout his career. I always told my friend the older Vince got the farther away he got from the basket and we have continued to see that until now. But, Vince makes this team because he was a great player and player all 14 years of the era except for one season with only 44 games. His best years came towards the beginning of the era but, up until two years ago he was still one of the better players in the league. He did not work out in Orlando or Phoenix. Hopefully, he goes to a playoff contender and plays a roll of the bench in hopes of winning a championship.
Shooting Guard –Tracy McGrady
McGrady was the best scorer in the league while in Orlando
The man that I just wrote an article on last week has been my biggest conflict on this list. I have had a four man struggle with Vince Carter, Ray Allen, Tracy McGrady, and Dwyane Wade. Tracy was originally on my second team because of the fact that he has Allen on 7 all-NBA teams (2 1st teams, 3 2nd teams, 2 3rd team) compared to Allen's two all-NBA teams. Tracy was hampered by injuries later in his career but, was still a great passer and rebounder. He carried the Magic for 4 seasons and was almost able to singlehandedly defeated the #1 seeded Pistons. He was easily one of the top 5 scorers of the era and his peak was in the top 5 of anyone in this era. He was one of the most exciting dunkers the game has ever seen but, the knee problems really slowed him down on Houston and moving forward. His biggest burden is that he was never able to pass the second round while playing. Although, he is still going to be playing for a couple of more years so the possibility is still there. He won the NBA Most Improved Player 2000-2001, his first year in Orlando. He was never an elite defender but, was never a bad defender either. He is also at a very difficult position to judge because of the great talent there was at shooting guard during this era.
 Point Guard –Steve Nash
Steve Nash had two MVPs in this era
The former Canadian soccer player ran one of the most exciting offenses in NBA history for years. The Phoenix Suns never went to the Finals (mainly because of the ridiculous rule that caused Amare to miss a game just for getting off the bench. If not they would have beaten Cleveland and Nash would have added a NBA Finals championship to his resume) but, always seemed to be extremely close to getting there. He won consecutive MVP's and ran a pick and roll with Stoudemire that seemed as good as any I had ever seen. (Best one ever probably Malone and Stockton) Nash made his team better and regardless what injuries occurred he always seemed to find a way to get his team going. Even last season they got to the Western Conference finals but, were overmatched by a superior Lakers team. Nash has 7 all-NBA selections (three 1st team selections, two 3rd team selections on Dallas, two 2nd team selections on Phoenix) and he is one of the best passers of all time. The big knock on Steve Nash is that he is a poor defender and although some of that can be attributed to coaching it is still a visible weakness in his game. He has been one of the best pure shooters in the league for years and still continues to perform at the age of 37.
Lockout to Lockout All-NBA 2nd Team
Center –Kevin Garnett (Sixth Man)
Kevin Garnett is the best Timberwolves player ever
Personally, this was the hardest guy to leave off the first team for me. I had a debate of whether to have Shaq or he on the first team but, the 4 rings and the dominance of Shaq for a few years in this era was tough to ignore. Garnett was Minnesota for a decade and he and Tim Duncan will go down as the two best power forwards of all time. I guess I copped out putting Garnett at center but, he deserved it more than Ben Wallace by a big margin. Garnett averaged 20-10 for 9 straight seasons on the Timberwolves before going to Boston and most of those seasons he had more than 20 and more than 10. He was an 11 time all-NBA defensive selection (8 in Minnesota) and a 9 time all-NBA selection (8 in Minnesota). He was the NBA MVP in 2003-2004 which was the year Minnesota almost beat LA with Sprewell and Cassell. In Minnesota Garnett built a reputation of not being clutch and not winning the big game. That was improperly given to him because his team really was never the best team in the West. He finally changed everything when he went to Boston in a blockbuster deal in 2007-2008. That year he won Defensive player of the year. He was part of a three headed monster including Ray Allen and Paul Pierce. (All 3 are on these teams) He was the defensive anchor on that Boston team and he finally got his first championship when they defeated the LA Lakers in six. He famously said "Anything is Possible" during his interview directly after the game. Garnett was hurt by injuries the following year which prevented them the opportunity to make a true run at repeat. In 2009-2010 they got their shot to beat the Lakers again but, they came up short. Garnett is truly on of the main symbols of this era and although I wanted to put him at Small Forward for the 1st team, he is a 7 footer who never really played the 3.
Power Forward –Dirk Nowitzki
Dirk finally wins a Championship
The best international player of all time and the best shooting big man of all time, Dirk Nowitzki ended this era on a bright note. He ended it with a Finals MVP and an NBA Championship defeating the powerhouse that was assembled in the offseason. The Mavericks had lost to the Heat in 2006 and Dirk received a great deal of criticism in the following season. In that time, he won the NBA MVP the year following his finals defeat but, got eliminated as the 1st seed by the Warriors. But, Dirk put his critics to rest with a big championship win this season. Dirk has never been a great defender or rebounder but, his shooting touch is on match. He has an off balance fade away jumper that is impossible to block and if you play him too close he can blow by you. He has 11 straight all-NBA selections (4 on 1st team) and has been a part of the 3rd best team in the West during this era. Sadly, Dirk and the Mavericks had to have the dominance of San Antonio and LA overshadow them throughout the years. Dirk has played with a variety of players but he has been the main stay in Dallas. The championship this season truly capped of his legacy as one of the best power forwards of all time.
Small Forward –Lebron James
The King of Cleveland took his talents to South Beach
The best physical specimen the NBA has ever seen. Lebron James time in the NBA has been like a roller coaster ride. The anticipation for Lebron in NBA was unmatched by anybody else in history. When Lebron finally made the playoffs and had the big series wins against the Wizards in the beginning of his career. His big achievement came when he scored 29 out of 30 points to defeat the powerhouse Pistons. At that time, Lebron was on top of the world and was beloved by all. The fact that he did not beat the Spurs was unimportant because of how much better the Spurs were. He then went on to win two MVPs while he was on Cleveland in 2009 and 2010. He was the fact of Cleveland but, he was unable to reach the finals again as a Cavalier. He then went to Miami and hopes of winning a championship. But, his "Decision" and combining with two other superstars did not go well with the fans. This year he lost in 6 to the Dallas Mavericks and he struggled a great deal in the 4th quarter. His life as a player has been a roller coaster but, his playing ability is still phenomenal. He was the 2003-2004 NBA rookie of the year (Should have been co-rookie with Melo) and has been 7 time all-NBA (5 1st team) and 3 time all-NBA defensive team. What keeps him off the 1st team is the fact that he's only been available for 8 out of the 14 years. He has not won that NBA championship and he was disappointing in the Finals this year. He still has a promising career ahead of him.
Shooting Guard –Ray Allen
Ray Allen is the leading 3 point shooter of all time
The sweetest stroke in the NBA today goes to one man, Ray Allen. Jesus Shuttlesworth (his role in "He Got Game") was one of the best pure shooters we have ever seen in the NBA. He was a potent scorer but, was never able to really have a shot at a title until he went to Boston. In Milwaukee, he played along side Glenn Robinson and Sam Cassell. They came within one game of making the NBA Finals but, were defeated by the Allen Iversons in game 7. Allen was eventually traded to Seattle in a deal that included former Sonics great, Gary Payton. Allen teamed up with Rashard Lewis in Seattle but, as a team they were never able to really make a good run at the finals. The West was too good and that was around the time where the Lakers and Spurs were in complete control (sadly, that run ended this year when both were eliminated in the first 2 rounds although they were 1 and 2 seed) Allen was a potent scorer in Seattle and continued to gain the reputation of being an elite three point shooter. He did battle with some injuries but, that never completely derailed his career like it did to others. In the summer of 2007, this first real big 3 was formed. (I know there were big 3s before this but, none saw the success this one did. Many of the other big 3s were formed by chance; this one was made through trades and dismantling of a team. My Houston Rockets tried it once with Hakeem, Drexler, and Barkley but, they proved to be too old. They created that big 3 two years too late) The Celtics had their clutch 3 point shooter in Allen, their defensive stopped in KG, and their leader in Pierce. Allen finally won his first championship with the Lakers and although he struggled; he always seemed to hit one when it mattered. This past year he broke the 3 point record which makes him the greatest 3 point shooter of all time. What keeps Allen from going higher on this list was he never had complete dominance and shooting guard was a great position during this era. Regardless, he is one of the best shooters the world has ever seen. He was all-NBA twice (but never first team).
Point Guard –Allen Iverson
Allen Iverson carried the 76ers into the Finals
The best pound for pound player in NBA history, nobody had a bigger heart than Allen Iverson. He had the best crossover in the game and was able to carry the Sixers for a decade. Allen Iverson's most impressive feat was carrying the Sixers on his back in 2000 and taking them to the Finals. He won the MVP that year; he led the league in scoring with 31.1 PPG and led the league in steal with 2.5 SPG. He was dominant at his peak, which lasted a very long time. He hurt his legacy towards the end of his career with his refusal to come off the bench and his inability to at any point become a true point guard. But, he was an extremely over rated defender being that he led the league in steals three times yet never got an all-defensive selection. In my opinion, he is the best pure scorer of all time. Yes, he shot in volume, but never really had a choice. His best supporting player was Dikembe Mutombo (past his prime) and Carmelo Anthony I am not going to count because at that point AI was past his time. Allen Iverson was 7 time all-NBA (3x first). He is one of the players that truly thrived in this era and although his career was taken a turn for the worst recently; I hope there is no lockout and he joins a team with a chance at a title. He deserves a ring.
Now what you have all been waiting for, the first team, whoever is reading probably has a good idea of who is going to be on this list.
Continue part 2 here, All-NBA Lockout to Lockout Part 2