I know some people are not pumped about this year's NBA draft but, you should be! This will be the last basketball we discuss in a while because of the lockout that is pending in the NBA. So tune in at 7 PM tonight, while a new wave of talent will join the NBA (although this wave is relatively small because the talent pool is limited). This year's draft features two players who are considered to be head and shoulders above the rest, Kyrie Irving and Derrick Williams. There is the feel good story that a year after losing LeRobin, the Cavs were able to get the first overall selection as well as the fourth (Still doesn't even begin to make up for loss of Lebuns) This draft's talent is much more decreased because of the pending lockout that has caused many players to return to school and makes the promise of next year's draft much more exciting. But, now let us discuss the last basketball related even for a while. (No, summer league this offseason).
The Cavaliers start off the festivities
1.Cleveland – Kyrie Irving PG/Duke
Kyrie Irving going 1
This has been the consensus #1 for quite some time although Derrick Williams has been mentioned in the running as well. This is similar to the Derrick Rose/Michael Beasley draft and the Greg Oden/Kevin Durant draft where there are two players that standout but, most people suspect one of them is more likely to go first. Kyrie got to a experience a half year at Duke where in the first half they almost looked unbeatable but, when he came back it looked like it affected team chemistry. Irving is completely point guard who has not like a Rose or Westbrook (who are score first) but, is still very capable of scoring and has many positives to his game. Cleveland is in big need of a savior and, I would not get carried away and begin comparing this guy to a Derrick Rose or a John Wall because he is not as prized as these players were. But, he can definitely be successful and he will not have to live with the crazy pressure of being great immediately. The Cavs know they are still far away from anything close to a championship. (Sorry, Dan)
2.Minnesota – Derrick Williams F/Arizona (traded to Cavaliers)
Derrick Williams to Cavs
He broke onto the scene this season by carrying Arizona to the Elite 8 and being the best guy not everybody talked about because he was playing on the west coast. He had a few "did he just do that" plays against Duke and the tourney because of his ridiculous athleticism. I am worried that he has too much like Beasley and I think the T-Wolves should move him. His trade value will be way higher than Beasley's and I do not see him being a much better player. They cannot run Love, Beasley, and him in the frontcourt because they would get dominated defensively without a true center. I predict Minnesota trades this pick (I do not know to who but, I'll guess the 2nd pick in this year's draft and a top-5 protected 1st round pick in 2013 for J.J Hickson and the 4th pick in this draft) The Cavs already have Jamison, Varejao, Samuels, and they could really use a Derrick Williams to possibly play SF. This would work out great for Minnesota because it would give them depth in their front court and Hickson could be used as a trade chip.
3.Utah – Brandon Knight PG/Kentucky
Knight shows closing ability
The Utah Jazz traded their best player since Karl Malone this past season because he was ready to bolt for free agency. They have a new coach on the bench for the first time since I've been born (I was born in 1989) and are looking to rebuild that team. The trade with the Nets worked in their favor because here they get one of the most skilled players in the draft. Knight showed he could hit big shots when it mattered and he could definitely share the backcourt with Devin Harris (both are combo guards but, they'll slowly transition Knight into the 1 spot.) I also believe with Milsap, Jefferson, and Favors there is no reason to go big. Calipari point guards always succeed and I do not see this guy being any different. He is more of an Evans than a Wall or Rose but, he has a better chance to play PG in the league.
4.Cleveland – Enes Kanter C/Turkey (traded to Minnesota)
Kanter did not play at UK this season
I do not know much about Kanter except, that he is one of the most complete players in the draft as well as one of the tallest. He is relatively developed and the T-Wolves cannot possibly be satisfied with Darko at the 2 (I'm pretty sure Joe Dumars still has nightmares about drafting him but, probably felt better after the Timberwolves gave him a $5 million dollar a year contract.) I never know what David Kahn will do maybe he'll take Walker and once again load up on point guards (I'm kidding). The Timberwolves could be an interesting team to watch with Rick Rubio (The Spanish sensation), Kevin Love (The best white rebounder since Bill Lambier and Bob Petit), Enes Kanter (The Turkish Sensation), and Michael Beasley (you just never know what he will do next on or off the court). Kanter does give them series size down low, they only position still needing an upgrade would be shooting guard. Wesley Johnson may be able to figure it out, if not maybe Hickson for a good 2 guard.
5.Toronto –Jonas Valanciunas C/Lithuania
will Jonas play this year?
Listen, nobody is ever thrilled to live in Canada and thankfully for his kid, he'll get a chance to wait a year because of the problem with his buyout clause in Europe. They say this kid is a freak and he is only 19 years old. His numbers in Europe were not stellar but, he did not play a great deal of minutes. He has certainly somewhat of a project but, the Raptors need another big man because Bargniani make Steve Nash look like a good defender. The Raptors are not making the playoffs anytime soon, unless they squeeze into the 8th spot which is essentially worse than missing the playoffs (obviously exaggerating but, no 8 seed is beating Miami or Chicago in the next five years) Toronto is apparently a good place to go for international players or at least many get drafted there. The Raptors miss the inside presence of Chris Bosh and maybe in a few years this guy will really be having success as a center in the NBA)
6.Washington – Tristan Thompson PF/Texas (traded to Suns)
Texas freshman leaves early
I decided to have some fun and mix up the mock draft with some trades. If the Wizards keep this pick I think they Kawhi Leonard because they would like to improve their defense but, the Wizards will take a trade to improve their depth and size. The Suns trade Robin Lopez, the 13th pick, and a 2012 1st round pick for the 6th pick in the draft. The Suns are apparently really high on Tristan Thompson and I am a fan of the way he plays. He knows how to rebound and play defense. With Martin "The Polish Experience" Gortat complementing Thompson's lack of height the Suns could have a solid front court as they attempt to make Steve Nash's remaining time in Phoenix more enjoyable. He may be moved eventually but, for now the Suns are thinking about the current and this move puts them and the Wizards in a better spot.
7.Sacramento – Kemba Walker PG/UConn
Kemba is a winner
The Kings have drafted plenty of size over the last couple of years and already have their top scorer with Tyreke Evans. I want to see how well Kemba and Tyreke could play together but, the Kings need to go PG because it is by far their biggest weakness. I do not see the constant knock on Kemba; he is a great player and knows how to win. (Wrote article on him earlier this week, http://sportsourway.net/?p=279) He is clutch late in games and I believe can run the point at the next level. I would love to see these two guards on the fast break because they are quick players who know how to finish around the basket. The Kings may not be in Sacramento come 2012-2013 but, they have the young talent. That young talent just needs to find some discipline. Maybe Scott Skiles gets hired here in a year because he knows how to whip players into shape. The Kings are still a long way from being a contender in the West but, they'll definitely be able to score with this lineup.
8.Detroit – Bismark Biyombo PF/Congo
Serge Ibaka is a huge reason why I believe the Pistons take the 18 year old from the Congo. His offensive skills are in no way refined but, Ben Wallace is getting really old and Greg Monroe is not someone known for dominating the paint of the defensive end. I was considering the possibility of a trade with Houston because reports have them high on Thompson but, in this draft he's off the board. The Pistons need much more help than a big man and must start making some moves to improve that team. They have talent but, have not been able to put it together. The added size can help and the Pistons are currently semi-rebuilding so a project should not be a problem. (How do these kids form the Congo decide to play basketball? Is anybody with good physique and over 6'8 immediately thrown into the sport?  I am truly just curious) I would not be shocked if the Pistons attempted to move some veterans before draft day is over.
9.Charlotte – Marcus Morris F/Kansas
I do not know what has been a bigger failure for Jordan, baseball, golf, or predicting NBA talent. He has drafted the likes of Kwame Brown and Adam Morrison in the top 3. This year everyone is saying he will go with some sure talent that could help the team immediately. The Bobcats need to replace Gerald Wallace immediately but, also need to add scoring. The Bobcats could entertain Jan Veesly but, I do not see them going over an international prospect because of the uncertainty. Morris has a great deal of confidence and Jordan may be attracted to that. The Bobcats need scoring which is why I think he is better option the Leonard. Morris is a very diverse player who is good at everything but, not really great at anything. He is a safer pick and could get more effective when his jumper improves along with his quickness.
10.Milwaukee – Jan Veesly F/Czech Republic (Traded to Houston)
The Houston Rockets always seem to be big fans of international players and this guy is an exciting one to watch.  The Rockets have a great deal of size in the interior with Patterson, Hill, and Scola but, this guy is a different style of player. Some people say he could play the 3 at times which allows teams to use him in different way. I think the Rockets give up the 14th and 38th in this year's draft and a 2nd rounder next year for the 10th pick. Veesly is a steal at 10 and the Rockets love value picks. They have continued to gather young talent over the years and the trend does not stop here. The Rockets have been playing a run and gun style lately which is why Veesly will fit in. They still need to get a real center because of Yao's injury but, the talent is too good to pass up. Hopefully my Rockets can make a run at the playoffs next year.
11.Golden State – Kawhi Leonard SF/San Diego State
Leonard is a gritty player
Leonard is one of the best defenders in this draft and is also one of the guys that hustles the most in this class. He is still not refined offensively as much as teams would like but, the Warriors do not need any added scoring.(Monta Ellis, Stephen Curry, and Dorell Wright have no trouble taking 20 shots each a game)  What the Warriors need is a defender who could rebound and this guy can do just that. He has raw athleticism and could be the gritty guy the Warriors haven't had in a decade. At 11, he would be a great value pick for Golden State and you know Mark Jackson wants defense. (I cannot wait to see him on the sidelines this year. I was kind of sick of his catch phrases as an announcer but, I really hope that's they he talks to his players when he's mic'd during timeouts. I can imagine him in the huddle telling Ellis "that is a grown man move" and other of his phrases. Van Gundy is going to get on him when he calls Warrior's games and it will probably be more entertaining then the actual game)
12.Utah – Klay Thompson SG/Washington State
Thompson is somebody that I did not watch too often because Pac 10 basketball is not exactly all over the TV but, the guy can shoot. The Jazz always draft a white player and Jimmer is obviously no longer an option with Knight already going to them at 3. They already have some young talent down low which is why I would go shooter. The Jazz would like to replace to Kyle Korver they lost last season along with other wing talent that left to free agency (Wesley Matthews and Ronnie Brewer). The Jazz will be an interesting team to watch going forward because they are currently rebuilding but, who knows maybe with two lottery picks they can turn it around quicker. I see Klay also playing some 3 because of his size. It is always nice to draft one of the best shooter out there.
13.Phoenix – Chris Singleton F/Florida State (traded to Washington)
The ACC Defensive player of the year is the best defender in this year's draft. There have been reports that he shut down Jordan Hamilton in some workouts and Hamilton might be the best pure scorer in the draft. The Wizards need to give McGee some defensive help and Singleton would be a great compliment. The Wizards already have plenty of players that enjoy shooting the ball (thankfully, they no longer have players that actually enjoyed shooting). Andre Blatche manages to play less defense than Flip Saunders during games so I imagine the former Seminole will be a pleasant addition. The Wizards are a team that continues to add talent they just need to move some of the scorers around for defenders. ]
14.Milwaukee – Jordan Hamilton F/Texas
Hamilton was tied with Dunn for most difficult player to judge on a basketball court. Hamilton improved his shot selection last season but, still left people scratching their heads during most games because it was still not very good shot selection. He is a long player who can shoot the lights out and is certainly not afraid to take the shots. He measures at 6'9 but, can realistically play a 2. He is somebody that can use a strong coach like Skiles to control his erratic shooting but, with the Bucks shooting last year they may be begging him too shoot. The Bucks were the worst shooting team in the league last season and since Salmons already had his one good year, we should not expect much more out of him going forward. Hamilton is diverse in the positions he can play but, if he actually starts this season the Bucks may be second to Warriors in most shots attempted by your 1-3.
15.Indiana – Jimmer Fredette PG/BYU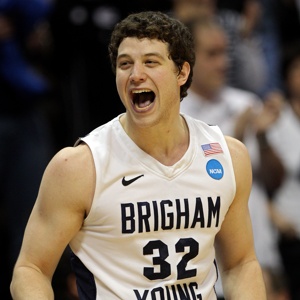 Jimmer Fredette was a big surprise this season
I would not be surprised if the Knicks try to jump up to snag the Mormon stroker. But, if the Pacers grab him at 15 Larry Bird and the rest of Pacers nation will be going nuts. Would he be the best shooter Indiana has since Miller? Possibly. I do not trust Jimmer that much yet because he was a high volume shooter in college and looked like he could be defended by superior defender. The kid certainly has unlimited range and was great to watch all season. He will join one of the whitest teams in the NBA, could you imagine how boring a conversation with him and Tyler would be? We'll see how immediate his impact is but, in terms of position to Pacers would be relieved to have him drop here. The Pacers have continued to have a variety of point guards for the past decade and have never really found their guy. Darren Collison looks like he can be really good but, Fredette would immediately be a big scoring option for a team that gave the Bulls some trouble in Round 1 this season.
16.Philadelphia – Nikola Vucevic C/USC
International talent has really been flushing into the NBA and in this year's draft the size is coming form overseas. Even though, Vucevic played at USC he's still from Serbia and brings some of that basketball IQ along with him. He is one of the tallest guys in the draft (he's actually a 7 footer) and the Sixers need a big center down low. They used to have Dalembert but, his production tailed off as he got older which was why he ended up in Sacramento. There is still a chance Iguodala gets moved but, with Hamilton off the board I think this is the smartest move. I am a fan of Markieff Morris and he is a Philly guy but, the fact that Nikola is 7 feet tall makes the difference.
17.New York – Alec Burks G/Colorado
This is one of the most difficult teams to predict year in and year out. The Knicks have begun their transformation and are looking to become a force in the East. They traded away a great deal of talent to attain Carmelo Anthony and now must get players who can play in their rotation right away. I was considering have Markieff Morris go here but, I feel like if the Knicks are going big man they need to go BIG man. Morris is 6'9 and although is someone who can rebound and score, I do not feel like he and Amare would be able to hold down the paint together. Burks has major upside and was very effective in a mediocre Colorado team. I also think the Knicks have to be slightly worried with the production they got from Landry Fields late in this season. For this reason I think the Knicks go shooting guard and take a guy who can also play the 3.
18.Washington – Iman Shumpert PG/Georgia Tech
The Wizards have already addressed defense with their trade for Robin Lopez and the drafting of Singleton. (In the mock draft) They can now take a player who is not a shoot first guard like Nick Young and Jordan Crawford. Shumpert is a very good defender who has been flying up draft boards as of late. This will give the Wizards a guy they can put in late in games for defensive purposes. He can also serve as a backup point guard to Wall and can get other involved since he's not a big time scorer. The Wizards would really improve at the defensive side of the ball with these picks; something they desperately need.
19.Charlotte –Markieff Morris
The twins from Philly going to Charlotte
The brothers from Philly are back together playing for the greatest of all time. These twins play great together and they bring different games to the table. Markieff is someone who can rebound and shoot the 3. Charlotte is not exactly a great 3 point shooting team and is also a very inconsistent team. The two boys from Philly know how to play defense and play an old school style of ball that Jordan would definitely appreciate. I also like the idea of two twins playing together their whole lives. If Markieff drops this far it would make sense to take the package deal because they make each other better. I'm sure their parents would also be relieved that they can move to a place where both of their sons will be.
20.Minnesota – Marshon Brooks SG/Providence
Brooks was one of the pleasant surprises of the 2010-2011 Big East season. Brooks scored in bunches, scoring over 40 more than once. He played on a very difficult conference was able to produce on a team where everyone knew he was shooting. He is somebody who can compliment Rubio's pass first style and could be a nice compliment to Beasley on the scoring end. The T-Wolves still have Wesley Johnson but, can certainly use another guard that is a flat out scorer. NBA teams enjoying having players have are great at one aspect of the game. They have love who can rebound, Rubio who can pass, and now Brooks who can score.
21.Portland – Kenneth Faried PF/Morehead State
Best rebounder in college basketball, hands down and with all the injury problems Portland has struggled with they can use a guy who can bang down low. According to reports last year, the Blazers were high in the guy and he can give them a rebounding compliment to Aldridge who likes playing away from the basket more than the average big man. If Greg Oden is ever healthy they would be a good defensive/rebounding combination down low.
22.Denver – Tobias Harris F/Tennessee
The Nuggets have coveted Harris throughout this whole draft process and if he is available they will jump on him.
23.Houston – Jimmy Butler G/F/Marquette
Butler had a tough road to the NBA
Butler is a great kid with a great story who was effective for the Golden Eagles since his freshman year. The Rockets weakest position is the 3 since trading Shane Battier and Trevor Ariza over the past two seasons.  Maybe he can have a Wesley Matthews kind of impact.
24.Oklahoma City – Nikola Mirotic F/Serbia
The Thunder have never had a problem with drafting international talent. They currently have Sefolosha and Ibaka who are both international players. This kid may be in Europe for another 2 years because he signed a big contract but, the Thunder keep building young talent and they can add to the list with this European talent
25.Boston – Donatas Montiejunas PF/ Lithuania (traded to San Antonio)
We all know about the Spurs infatuation with international talent and this guy is no different. He could have possibly been a lottery selection last season but, he has been dropping slowly. The Spurs would love this pick because of his value and would give up a future 2nd round pick to move up. Boston has not dire need that could not wait four more picks to take.
26.Dallas – Jordan Williams C/Maryland
Dallas has no direct need after winning the finals. A guy like Williams could back up Tyson Chandler and develop into a possible center of the future.
27.New Jersey – Justin Harper PF/Richmond
The Richmond alum has endless potential and the Nets have a week frontcourt behind Humphries and Lopez after trading Favors in the Williams' deal.
28.Chicago – Josh Selby PG/Kansas (traded to Los Angeles Lakers)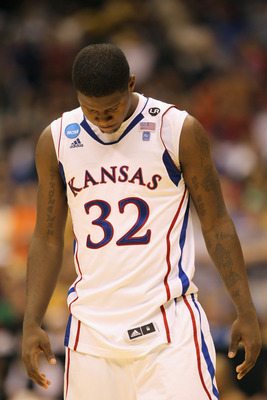 LA will help him keep his head up
The Lakers have four picks in the 2nd round and certainly don't need all of them. They can trade the 41st and 46th pick for this pick. Selby is someone who may mature faster on a team filled with veterans like the Lakers. He could be a point guard of the future and can learn from on of the classiest guards of this generation. Derek Fisher. He can also give the Lakers a scoring boost on the second team, especially if Shannon Brown decides to leave.
29.San Antonio – Jajuan Johnson PF/Purdue  (traded to Boston)
Jajuan Johnson is a shot blocker and a scorer. He can play right away and was very impressive during his time at Purdue.
30.Chicago Bulls – Tyler Honeycutt G/UCLA
One of the best stories in the NBA draft gets a first round selection to a talented team. The Bulls still have question marks at who there two is and they are taking as many applicants as possible. They have many 2 guards who do different things and Butler can be added to the list. Maybe he can have a Wesley Matthews kind of impact.
Well, here is my NBA mock draft. I realize that Derrick Williams may end up going second and Valanciunas is more likely to go to Cleveland. But, I think this is a good deal for both teams and think Minnesota should trade Williams because I think Beasley will have just as much success in the league. Cleveland gets Williams and Irving, best they would be feeling since Lebron. Look for Kemba to have a big year this season because he is NBA ready. We'll see how my predictions go this year. Tune in tonight on ESPN to see who gets drafted and who gets traded. Sadly, this will be the last bit of basketball for a while and football is still not coming back that we know of. I guess we have to really follow baseball as sport fans. Let's go Red Sox!!!