NBA analysts constantly discuss how young players must go through trials and tribulations before they reach the pinnacle of NBA success, an NBA championship. Yes, there are players like Magic Johnson and Tim Duncan that defied that by winning as rookies but, they were experienced college players.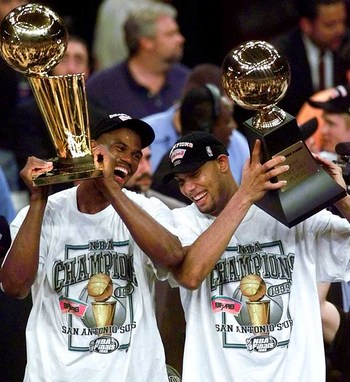 The Thunder's arguably three best players all left college after a year (Durant, Westbrook, and Beard). Kevin Durant and Russell Westbrook played for Team USA this past summer and were able to win it all. Durant led the way but, the NBA playoffs are a different ball game. The NBA playoffs are exceptional because of the level of talent and the way superstars separate themselves from the pack. Kevin Durant was impressive in this postseason but, did show a tendency to pull up from too far out (30 footer getting blocked at end of regulation by Marion, also did it in other games throughout postseason), not consistently drive to the basket, and not go get the ball nearly enough at the end of games. He is still young and his game has a great deal of maturing to do. Even Kobe seemed to struggle against the Mavs defense although, I put much more blame on Pau Gasol who looked 5 feet tall opposed to 7 feet tall. I want Durant to be the next elite star in the NBA because he embodies everything Lebron does not. He cares about his fans and stayed in the city that took him in. Also he is humble and not a cocky Ricky Henderson type (Lebron referred to himself in 3rd person three times during the decision).
The Thunders problem to close out close games goes way beyond Durant (He was still stellar in this playoffs and I am not knocking him in any way). Russell Westbrook went from the human highlight reel to the human turnover reel. He was way too sloppy with the ball at the end of games and just seemed to be intimated by the big lights. His shooting was very poor in the series and he needs to be able to finish around the basket more when he has a potential and one. Russell is young and immature; he yells at his coach and sometimes takes shots that are certainly not in the best interest of the team. But, that is something that can be taught because he is a willing passer (unlikely Marbury was) and shows passion to win.
Durant and Russell can be one of the best 1-2 combos in NBA history but, they need to continue working on their chemistry and need to figure out how to close games.
If you watched all of these playoffs, the Thunder should have won 6 out of 7 against the Grizzlies and should be up 3-2 on Dallas going to OKC. They had these games won and somehow forgot how to score/play defense at the end of the game. Every time Dallas needed a big shot, someone knocked down (most often Dirk who was absolutely unguardable). Every time OKC needed a big play it was either a turnover or a bad miss. The Lakers showed all of us in the previous round that you better close out the Mavs or you will live to regret it. The Lakers are another team that should have been tied 2-2 but, I repeat again DIRK HAS BEEN UNSTOPPABLE. Jason Kidd made every pass necessary and Jason Terry hit every 3 possible.
Can I ask how Jason Kidd is still so good defensively? It is absolutely remarkable the way that guy still plays. The Mavs just got the best out of their players at every moment that mattered; everyone else in the West was not able to do so.
The Thunder should be optimistic because a lineup featuring Perkins, Ibaka, Durant, Harden, and Westbrook (I know I left out Sefolosha but, Harden is the better 2 guard). Their bench will have Cook, Sefolosha, Collison, and Nazi Mohammed (new big man should be signed). I thought this was possibly their year after I saw LA go down but, the Mavs just seem like they want it more than everyone else (better yet, Dirk and Kidd look like they want it more than anyone else)
O yea, besides that guy Lebron but,  that is story for a different day. Ultimately, the Thunder had a harder time finishing games than Greg Oden does finishing seasons (Durant or Oden? Jordan or Bowie? The Blazers have to be pretty upset at what they could have had). I believe the Thunder will bounce back because they have officially paid their dues this postseason; they may have a great shot at the West with Mike Brown going to LA.
I wanted to discuss this because it truly does not make sense to me. If I was LA it was either Shaw or Adelman. Need I remind you, Kobe missed the playoffs without the triangle. Yes, they lost Shaq but, brought in some talented players and were not able to surpass 40 wins. Mike Brown had problems with Lebron in Cleveland; you think Kobe's listening to him? Rick Adelman is a seasoned veteran who's taken some very good teams far and his players always love him.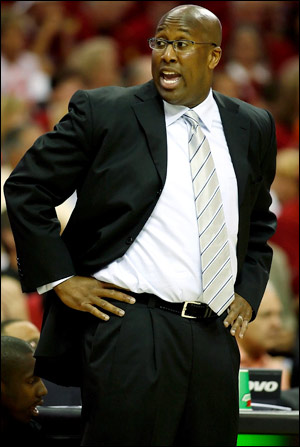 Lowry and Kevin Martin were furious when they heard about his departure from Houston. The Lakers do need to try to swing Bynum, Odom, (fill in guard and picks) for Howard and Arenas (only way Howard goes is with Gilbert's ridiculous contract). I think Gilbert is an upgrade at the point for LA and Howard is the best defensive player in the league so that might just help out the LA Defense. The Lakers are getting old and Kobe is sadly declining out of the Top 5 in the league. (James, Howard, Wade, Bryant 1st tier; Rose, Paul, Durant 1 ½ tier that are about to overtake Kobe) Bryant has to win now or he is going to be stuck at 5 rings and he better do so soon because the NBA is only getting better especially, those boys from OKC. But, OKC better be ready for All of the Lights.
Check out www.sportsourway.net