Tickets for the friendly match between the USA Men's National Team and Spain went on sale today to the general public. The match will take place on June 4th at Gillette Stadium in Foxboro, Massachusetts. Kick off is set for 4:30 PM, and the game will be aired live on ESPN.
The game takes place just three days before the USA starts its quest for another CONCACAF Gold Cup championship. They will then head to Ford Field in Detroit for their first group stage game against Canada on June 7th.
Considering the USA beat Spain the last time the two teams met in the 2009 Confederations Cup, you can take my word that the Spanish won't be taking this game lightly. I know they'll be looking for some revenge, even though it is just a friendly match.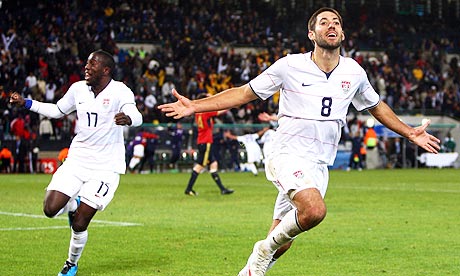 None the less, it will be a great warm-up game for the United States, playing against the #1 ranked team in the world. The roster that Bob Bradley puts out that day should be a strong one, and it should give us an indication of who will get most of the minutes during the Gold Cup as well.
If you live in the Foxboro, Massachusetts area, or are close enough to make the trip without spending a boatload of cash, I highly recommend trying to get tickets. I was at the last USA game vs. Argentina at New Meadowlands last month, and the atmosphere was great, even with the weather at around 30 degrees. With this game taking place in the beginning of June, the weather could make it a very enjoyable experience.
Not to mention, Spain are the current World Cup champions, and have undoubtedly the greatest soccer players on the planet on their squad. Even if they don't put out their superstars, you will still get some great soccer from some world class players. Chances to see a team like this don't come around too often, so take advantage of it while you can.
Here is a link to more information regarding tickets:
http://www.ussoccer.com/News/Mens-National-Team/2011/04/More-than-33000-Tickets-Sold-for-US-MNT-Match-Against-Spain.aspx