Even though the USA had the better of the play for much of the match, they couldn't provide the breakthrough to at least manage a draw last night in their international friendly match against Paraguay. Oscar Cardozo's 18th minute goal gave the South Americans the victory, leaving the USA asking themselves, what could have been?
This match was a completely different type of game for the Americans, compared to the one that they played against Argentina on Saturday. For one, the Americans had the better of the possession against Paraguay, while against Argentina, they couldn't string together more than three passes without giving up the ball. The USA also had many more chances to score in this game, and probably should have equalized in the 76th minute, when Landon Donovan booted his point blank volley into the side netting.
Although it was a loss, the USA team can take a lot from this game. Tim Ream and Timothy Chandler were the newcomers in defense and both played well against a solid Paraguay team that reached the quarterfinals of the World Cup last summer in South Africa. Chandler was especially good, making runs up and down the right flank and providing some very nice crosses into the area for the American attackers. For one, he shows speed and skill that some of the other more veteran defenders on our team don't. He was way better than Jonathan Bornstein who started on the left side of defense and performed rather poorly.
Clint Dempsey and Juan Agudelo again were the ones who stood out most in the attack. Dempsey seemed to be getting fouled about every 2 minutes, and always seemed to be getting opportunities in front of goal, but could never finish one off. Agudelo, even though he didn't score, showed his flashes of brilliance. What's nice about him, is that he isn't afraid to do a step over, or show some flashiness in attack, something that the USA definitely doesn't get from the other forwards on the team.
Despite having a lot to take away from the match that went well, there were also a few disappointments. First off, Jay Demerit's clumsy attempted clearance provided the Paraguayans with the first and only goal of the game. Demerit failed to clear a corner kick as he fell to the ground, and Cardozo buried the loose ball from about five yards out. Demerit is getting older now, and may have seen his better days behind him as a USA defender.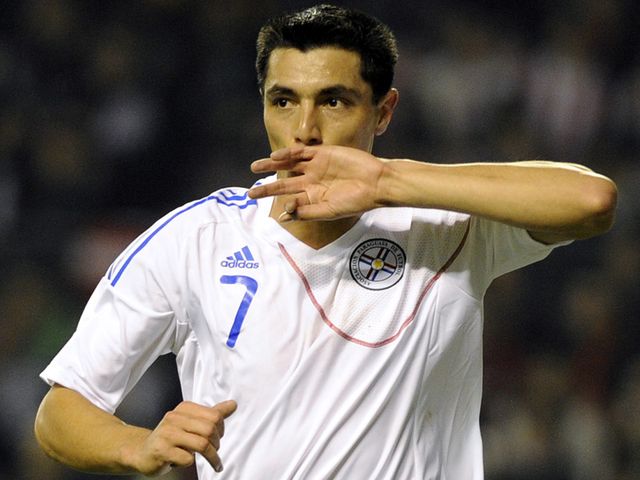 Another defender who played poorly was Jonathan Bornstein. He had plenty of opportunities to play some nice crosses into the box, and pick out our attackers for some shots on target. A majority of the time though, he either shanked or miskicked his delivery.
Michael Bradley didn't impress me that much in midfield, and neither did Landon Donovan. I feel that one of them should have come off at one point in the game to give one of the younger players some more playing time. But that's the coach's decision, and one that many people have disagreed with. It's an international friendly Bob Bradley, why give the full 90 minutes to players that you know so well, and know what they are capable of doing?
Either way, it was a strong showing for Team USA, even though they ended up on the short end. They have one more warm-up game before this summer's Gold Cup, against World Champion Spain, on June 4th in Foxboro, Massachusetts. Lets pray that our better players stay healthy until then, so we can win another Gold Cup and retain our CONCACAF supremacy.
Game Highlights Here - http://www.youtube.com/watch?v=0ZOypJBPLvE